Four winches for one drill
Episode 12
Drive technology for sinking and other mining solutions
Mining is booming – no longer in Germany, but in other regions of the world. Frequency converters play an important role in the drilling, called sinking. Lutz Kramaschki from Siemag Tecberg and Jörg Drunkenmölle from Danfoss Drives reveal which ones in this episode of Drehmoment – Der Antriebspodcast. The two experts also have info around other smart solutions for mining.
The Hessian machine builder Siemag Tecberg supplies shaft hoisting technology to mines worldwide – from England to South Africa and Canada. Also included is technology from Danfoss Drives. The deployment scenario during sinking: four winches with four ropes hold the drill and the challenge is to ensure that the drill enters the shaft synchronously so that it does not skew. Spooled are 1000 meters of rope. That's where performance, drive technology and response times are crucial.
Torque - The Drive Podcast | Episode 12
Digital services for more planning reliability in mining
Condition-based monitoring (CBM) and predictive maintenance with intelligent frequency converters really pay off in plants located far from cities or in areas that are difficult to access. This is because it is always difficult and expensive for service technicians to travel to the site. The cornerstone for high availability of such systems can be a simple Internet line, knows Jorg Drunkenmolle. If Internet is available, condition monitoring with frequency converter is also possible. This way, service technicians always keep an eye on their equipment remotely and can better plan maintenance calls. You can hear how in this podcast episode.
This brings us full circle to other drive podcast episodes: Episode 1"How does an inverter learn" and Episode 11"Using data, increasing plant performance" explain what makes frequency inverters intelligent and how you can quickly draw the right conclusions from the data supplied.
Sinking, shaft sinking, hauling
More than two years ago, the last active colliery in Bottrop closed and with the miners' last journey, a piece of mining history ended in Germany. The mines are closed, but the local knowledge of sinking, shaft sinking and mining lives on – in other regions of the world. "Mining is not at an end. Lithium and salts are in demand and are being mined," explains Lutz Kramaschki from Siemag Tecberg. The Hessian machine builder supplies shaft hoisting technology to mines worldwide – from Belarus to England, South Africa and Canada. Frequency converters from Danfoss Drives play an important role in this.
Siemag Tecberg supplies, among other things, the bucket winches for projects. "Our customers use the machines for sinking, shaft sinking and have even been able to set new sinking records of 144 meters per month," the machine builder proudly reports. The Hessians supplied two stationary 1-rope drum sinking machines with 215 kN pulling force and two stationary 1-rope drum sinking machines (with 252 kN pulling force) including the associated control technology for the handling of goods in sinking operations by means of buckets for shaft 1 (S1) and shaft 2 (S2). Jörg Drunkenmölle and his team from Danfoss Drives can also pin the devil's record to their lapel to a small extent, because the drive technology is an important component of the machine.
Danfoss supplied VACON NXC frequency converters as regenerative low harmonic converters. "The main technical challenge was that one motor gearbox is installed on the right and one on the left of the drum. If both are coupled to the one axis, one drive has to run the other way around, synchronously with the master drive, only the other way around. The colleagues from Danfoss had to manage this in the frequency converter. It was important to us that they should not run against each other, of course, and that the machine demands the full torque," explains Kramaschki. An exact load distribution on the two friction-locked electric motors was also mandatory.
PGlmcmFtZSB0aXRsZT0iVmlkZW8gUmVkcGF0aCBEZWlsbWFubiBHbWJIIERvcnRtdW5kIFNCUiBPcGVyYXRvciBSdXNzaWEiIHdpZHRoPSI4MDAiIGhlaWdodD0iNDUwIiBzcmM9Imh0dHBzOi8vd3d3LnlvdXR1YmUtbm9jb29raWUuY29tL2VtYmVkLzk3aGxmSVpQYUJRP2ZlYXR1cmU9b2VtYmVkJnJlbD0wJmVuYWJsZWpzYXBpPTEmb3JpZ2luPWh0dHBzJTI1M0ElMjUyRiUyNTJGZGlzY292ZXItZHJpdmVzLmRhbmZvc3MuY29tJmNvbnRyb2xzPTEiIGZyYW1lYm9yZGVyPSIwIiBhbGxvdz0iYWNjZWxlcm9tZXRlcjsgYXV0b3BsYXk7IGNsaXBib2FyZC13cml0ZTsgZW5jcnlwdGVkLW1lZGlhOyBneXJvc2NvcGU7IHBpY3R1cmUtaW4tcGljdHVyZTsgd2ViLXNoYXJlIiBhbGxvd2Z1bGxzY3JlZW4+PC9pZnJhbWU+
Challenge at the depth of the Woodsmith mine in York
At Woodsmith Colliery in York, England, the shaft boring machine is attached at four points and a total of four winches lower it. It gets stuck in the shaft and then drills a meter. Then it starts up again and is lowered again. Four winches with four ropes hold the drill, and the challenge is to get the drill back into the shaft synchronously so it doesn't skew. Spooled are 1,000 m of rope. "That's where performance, drive technology and response times are critical," Kramaschki explains. "We measure the depth, so when the meter is reached."
The drive system is energized beforehand. When the brake is then released, the drill does not fall into the shaft. Full motor torque must be applied at zero speed to hold. The inverters are given a setpoint so that the drill hovers. The shaft boring machine continues to move in the shaft with the new setpoint. "A person is always responsible for that," the wind expert emphasizes.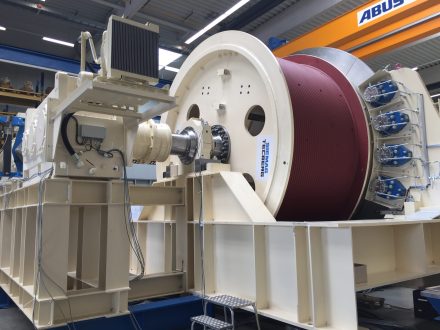 PGlmcmFtZSB0aXRsZT0iVGhlIFdvb2RzbWl0aCBQcm9qZWN0IC0gU2hhZnQgU2lua2luZyIgd2lkdGg9IjgwMCIgaGVpZ2h0PSI0NTAiIHNyYz0iaHR0cHM6Ly93d3cueW91dHViZS1ub2Nvb2tpZS5jb20vZW1iZWQvNWIzb29aZTdHdTg/ZmVhdHVyZT1vZW1iZWQmcmVsPTAmZW5hYmxlanNhcGk9MSZvcmlnaW49aHR0cHMlMjUzQSUyNTJGJTI1MkZkaXNjb3Zlci1kcml2ZXMuZGFuZm9zcy5jb20mY29udHJvbHM9MSIgZnJhbWVib3JkZXI9IjAiIGFsbG93PSJhY2NlbGVyb21ldGVyOyBhdXRvcGxheTsgY2xpcGJvYXJkLXdyaXRlOyBlbmNyeXB0ZWQtbWVkaWE7IGd5cm9zY29wZTsgcGljdHVyZS1pbi1waWN0dXJlOyB3ZWItc2hhcmUiIGFsbG93ZnVsbHNjcmVlbj48L2lmcmFtZT4=
A case of angular synchronicity
Drunkenmölle adds, "Angular synchronicity is the magic word." An incremental encoder is attached to each motor shaft. This provides 1024 pulses per revolution of the motor shaft. "This means that when the motor shaft rotates once, we get a signal on and off 1024 times. For example, if we have a master drive, and we have the motor shaft turning, say, 0.5 revolutions in 1 second, then we have 0.5 *1,024 pulses, and we're chasing the pulses exactly, and at the same speed as the master," he clarifies.
"It just has to work out then," jokes Kramaschki, adding, "Engineering should not be underestimated. Every application in our industry is different, and I need a contact in drive engineering who is fully attuned to my application. Danfoss Drives had to adapt to our power range. Interfaces have to be coordinated. Which signals do I pass where, which signals does the frequency converter need? And depending on the manufacturer, the interfaces are different. That's where you need someone to coordinate it."