Happy cows
at the Mohr dairy farm
For more summer freshness in the cowshed: at the Mohr dairy farm in Callbach in Rhineland-Palatinate, the focus is on animal welfare. Because healthy and relaxed dairy cows provide more and better quality milk. The decision to install frequency-controlled ventilation, which keeps the air in the barn fresh in hot weather, was therefore an easy one for farmer Yvette Mohr. Peter Seipel from Danfoss service partner Klebs+Hartmann assisted her with planning, implementation and commissioning.
Alma's test report: It's finally summer in the stable!
Heat summers with record temperatures are no longer a rarity, even in Europe. This is felt not only by people, but also by many animals. Climate change has us all in its grip – including us dairy cows. When it gets very hot in the summer, we also work up a good sweat. Then we dream of summer holidays in the barn. The Mohr family, in whose barn I live together with my girls, has recognized this and recently provided for more wellness and a real feel-good climate in our home. You can read my preliminary test report here.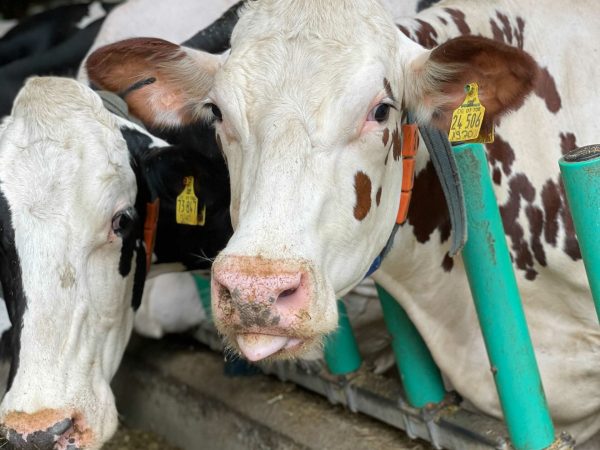 You have to think of it like this: I currently share my home with 449 roommates. We live together in a large, open facility that is being transformed piece by piece into a wellness oasis for us. And that's a good thing, because after all, they always say that the customer is king or queen.
My day usually starts early. After an extensive breakfast at the all-you-can-eat buffet, I stretch my legs for a short while before heading for the day's entertainment. In addition to the daily carousel ride in the milking parlor, this also includes an extensive massage at the brush roller, refreshment in the spray mist on warm days and, of course, holding one's nose in the wind under the new fans in the shady, cool barn. So it's good to stay even in the summer!
These measures for summer freshness in our cowshed keep us fit and in good spirits even when the outside temperatures are high, which is something that the Mohr family places the highest value on. As good tenants, we then also give extra effort and neat fresh milk.
Inverters ensure greater animal welfare at the Mohr dairy farm
Yvette Mohr from the dairy farm of the same name in Callbach in Rhineland-Palatinate knows all about the stress her cows suffer in summer. "Animal welfare is close to our hearts," the farmer explains. In addition, however, there is also an economic loss for the family. Cows suffering from heat stress give up to 10 percent less milk. "Cows don't like it too warm or too cold," Mohr explains. That is why the family had 22 fans installed in the barn on their farm. "As soon as the temperature rises above 21 degrees, they kick in and cool the barn. That's why the variable frequency drives are so important for us."
Summer break in the barn: A special mission for the technicians
For Peter Seipel from Danfoss Drives service partner Klebs + Hartmann in Ludwigshafen, the installation of the 22 VLT HVAC Drive frequency converters from Danfoss Drives was a special assignment. "We've never worked on a control cabinet in a dairy farm," Seipel laughs, shooing the flies away. But the application fascinated him, because he sees even more fields of application for inverter technology in agriculture. "Our goal is to achieve the highest possible redundancy in the system," explains Seipel. Therefore, each fan is assigned an inverter in the control cabinet. "Technically, only one inverter for 22 fans would have been feasible, but this way we ensure trouble-free operation. If a component fails, we can quickly replace the inverter 1:1 in the control cabinet."
Peter Seipel from Danfoss service partner Klebs + Hartmann explains what needs to be considered when planning, installing and commissioning the 22 VLT HVAC Drive frequency converters from Danfoss Drives.
PGlmcmFtZSB0aXRsZT0iU29tbWVyZnJpc2NoZSBpbSBLdWhzdGFsbDogRnJlcXVlbnpnZXJlZ2VsdGUgVmVudGlsYXRpb24gZ2VnZW4gdGllcmlzY2hlbiBIaXR6ZXN0cmVzcyIgd2lkdGg9IjgwMCIgaGVpZ2h0PSI0NTAiIHNyYz0iaHR0cHM6Ly93d3cueW91dHViZS1ub2Nvb2tpZS5jb20vZW1iZWQvTnNaSnowQzhmczQ/ZmVhdHVyZT1vZW1iZWQmcmVsPTAmZW5hYmxlanNhcGk9MSZvcmlnaW49aHR0cHMlMjUzQSUyNTJGJTI1MkZkaXNjb3Zlci1kcml2ZXMuZGFuZm9zcy5jb20mY29udHJvbHM9MSIgZnJhbWVib3JkZXI9IjAiIGFsbG93PSJhY2NlbGVyb21ldGVyOyBhdXRvcGxheTsgY2xpcGJvYXJkLXdyaXRlOyBlbmNyeXB0ZWQtbWVkaWE7IGd5cm9zY29wZTsgcGljdHVyZS1pbi1waWN0dXJlOyB3ZWItc2hhcmUiIGFsbG93ZnVsbHNjcmVlbj48L2lmcmFtZT4=
Attention lactic acid: Special protection due to lacquered boards
The challenge for Seipel and his team was the motor cable lengths of more than 130 m and the ambient temperatures in the adjacent milk carousel, near which the control cabinet is located. "We didn't use air conditioning in the control cabinet because these converters can handle up to 45 degrees without any problems. But we had to choose a variant with painted circuit boards, because the lactic acid attacks the electrical components."
The Mohr family made a conscious investment in the technology to minimize maintenance and servicing times and to keep the temperature in the barn comfortable for the animals on a permanent basis. "22 inverters are of course the slightly more expensive version, but we were also able to achieve savings. Our experts did without displays on each inverter. These make no sense for us here. One display on one inverter is enough for us and saves real money," reports Seipel.
For him and his team, a whole new market is just emerging in agriculture. "Many farmers want to invest, put animal welfare first, but also want to save energy at the same time."