Safe drinking water supply
in the Nahe Glan region
The supply of drinking water – the highest level of reliability is required. The municipal utility association Nahe-Glan relies on the Danfoss DrivePro Site Assessment for maximum availability and better planning for maintenance and service. The service technicians of our partner Klebs+Hartmann use all of them for this frequency converter under the magnifying glass in order to carry out a risk analysis based on this and to give recommendations for action for a safe drinking water supply.
1 million cubic meters safe drinking water supply
The municipal utilities association Nahe-Glan supplies 18 local communities and the town of Bad Sobernheim with drinking water, an important foodstuff. The annual water consumption amounts to approx. 1 million m³, which flow to approx. 6.900 inhabitants via approx. 18.500 connections. The drinking water is pumped from 26 extraction systems, i.e. 23 deep wells, 1 service water well and 2 springs, via 13 UV systems into the storage systems and from there delivered to the households. Due to the topographical location, 4 pumping stations, 3 pressure boosting systems and 12 pressure reducing systems are in use to ensure normal water demand and water pressure. From 22 elevated tanks, the water makes its way to consumers through a 250 km long pipe system. Perform at numerous points in this system frequency converter a contribution to the safe drinking water supply of the region.
It is the end of October 2021. The day promises to be sunny. All the better, because today a lot of work in the fresh air awaits salesman Jürgen Hedderich and service technician Ralf Schütz from Danfoss partner company Klebs+Hartmann. The two experts travel from the company headquarters in Ludwigshafen am Rhein in the morning to meet Rüdiger Eckel from the drinking water supplier VG Nahe-Glan in Bad Sobernheim. A DrivePro Site Assessment, which is an inventory and evaluation of all frequency frequency converters in a system, is on the agenda. The experts have the little equipment they need for this job in the trunk.
First of all, they go through the previously agreed schedule for the day with Eckel. It quickly becomes clear that today is going to be a long day for the three technicians. On the one hand are the stations in which the frequency converter doing their job, far apart, on the other hand, a large number of frequency converters must be examined and recorded for the inventory. Most of them control the pumps in the region's water supply network.
DrivePro Site Assessment: Small blood count for the frequency converter
The technicians Hedderich and Schütz are excited to see what old treasures and surprises they will find at today's DrivePro Site Assessment at VG Nahe-Glan. This special service always feels a little like one treasure hunt on. Why? Alexander Bladowski from Danfoss Drives knows that very well. If he takes a close look at the frequency frequency converters in his customers' systems, an older device sometimes turns up that is no longer known or for which spare parts are no longer available - a real treasure.
Of course, such treasures are valuable, but they can suddenly fail and thus disrupt the smooth running of operations. Nobody needs that! It's a good thing that system operators can initiate countermeasures at an early stage, for example with a DrivePro site assessment. Through this complete, site-wide recording and risk assessment of everyone frequency converter Operators of critical infrastructure systems optimize their maintenance strategy. "A DrivePro Site Assessment is like a small blood count for them frequency converter a company that you can then continue to build on," explains Bladowski. Because if the users know their values, they can solidly build their strategy on them. Unforeseen system downtimes and sudden interference suppression can be minimized in this way. Bladowski explains in the video interview what exactly is behind a DrivePro Site Assessment from Danfoss Drives.
Deployment with a view to safe drinking water supply
Back on site in the Bad Sobernheim region. After a short vote, it starts straight away. Eckel knows his field of work like the back of his hand and unerringly heads for the first pumping station on her list. Once there, the two existing frequency frequency converters of type VLT 6000 checked by Danfoss Drives and their data transferred to a service laptop. They are then evaluated in the next step as part of a risk analysis. Today, however, it is all about taking stock. The two technicians provide the exact analysis and suggestions for possible measures within a few days after the inventory.
In addition to the actual DrivePro Site Assessment, the Danfoss partner also offers a cloud service: if the system operator so requests, the data can be stored in a company-owned cloud. In this way, the user can access the stored parameters of the frequency converter 24/7. And if there is a failure, the downtime is significantly reduced. A replacement device can be delivered quickly and correctly parameterized.
Good reasons for a site assessment in the drinking water supply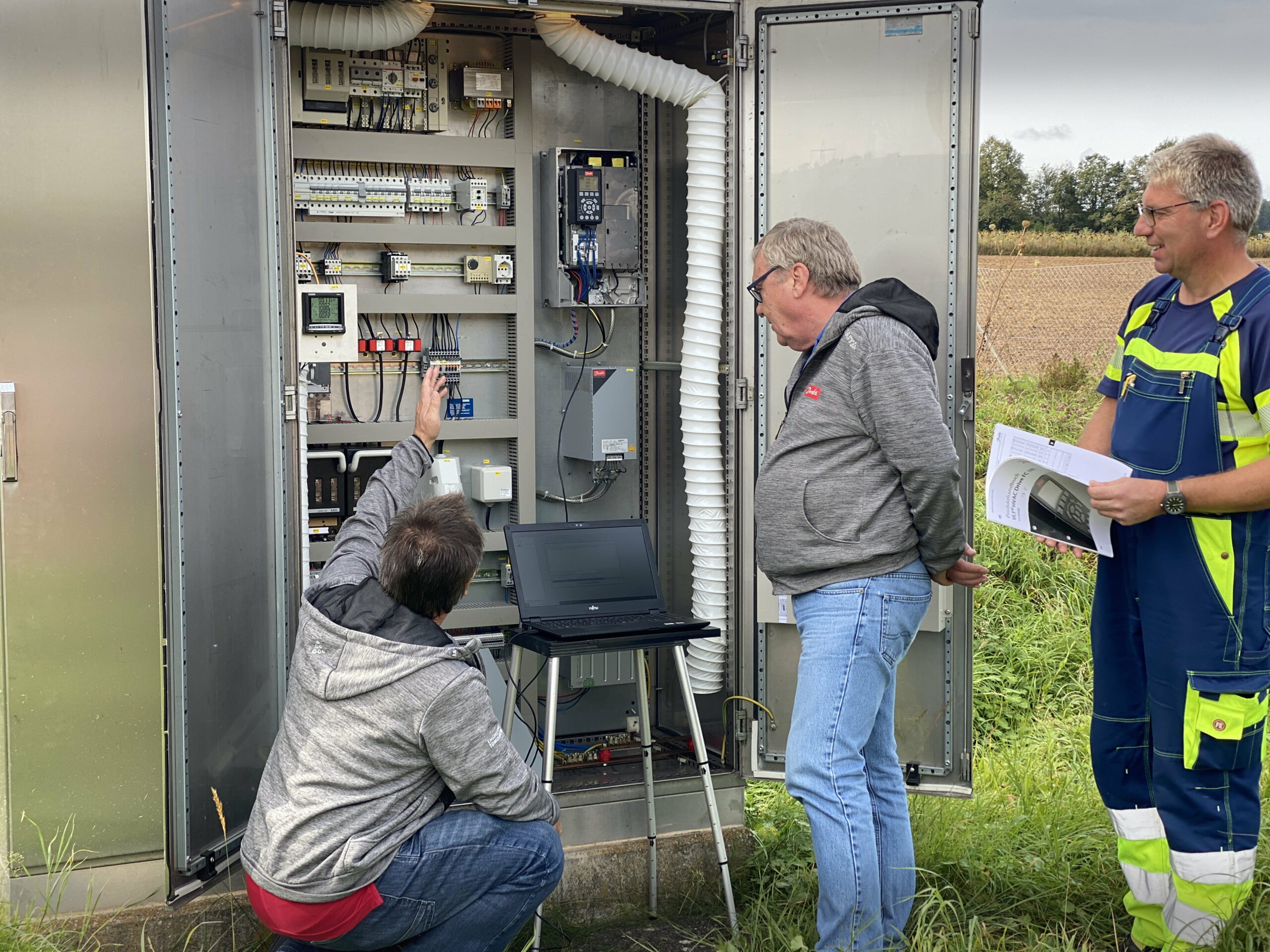 Now it goes on from plant to plant. The goal is the data of all frequency converter today and then evaluate it in the next step in order to take appropriate measures. Because if the system operator knows the current status, the risk of failure and downtime can be minimized and maintenance can be planned in a targeted manner.
Rüdiger Eckel from the Verbandsgemeindewerke Nahe-Glan knows exactly why he opted for this service: "Since our systems are distributed throughout the region, we want to use the site assessment to optimize our maintenance strategy and protect ourselves from unplanned downtime; especially with With a critical infrastructure such as the drinking water supply, it is important to always have precise information about the condition of the systems in order to be able to intervene at an early stage."
Jürgen Hedderich can reassure Eckel for today: "Here at VG Nahe-Glan, they are frequency converter in good shape and also neatly housed - we saw something completely different there. Nevertheless, it is worth taking stock of the devices. That way you are prepared for all eventualities."
In the video interview, Jürgen Hedderich talks about his work at VG-Werke Nahe-Glan. "During a site assessment, we record a wide variety of converter data. In this way, the operator can easily get a complete overview of the life cycle status of all frequency frequency converters and prevent unexpected maintenance measures." This is of particular value for critical infrastructures such as the safe drinking water supply in the Nahe-Glan region.