New EU requirements:
May I continue to operate my engine?
Episode 8
New requirements for engines in the EU
As of July 1, 2021, new requirements for motors and frequency converters apply in the EU for ecodesign. This logically raises questions: Are existing engines still allowed to be repaired and used? Do IE3 motors fit into existing machines? Do the costs of the motor and converter increase with the efficiencies? Markus Kutny from Bauer Gear Motor and Michael Burghardt from Danfoss Drives answer these and other questions in a podcast conversation. Both agree that a systems approach is needed to leverage further savings potential – but that will be difficult.
Torque - The Drive Podcast | Episode 8
The background: More energy efficiency prescribed for engines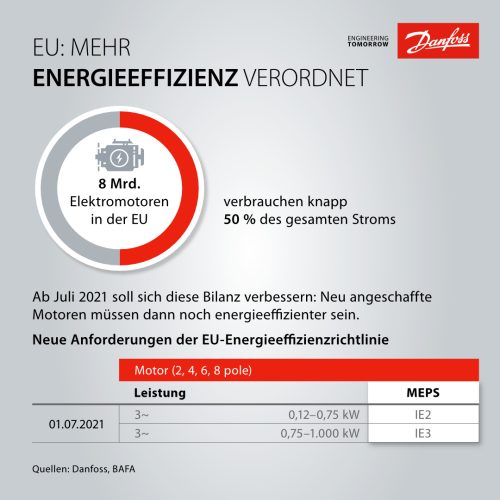 There are currently about eight billion electric motors in use in the EU, consuming nearly 50 percent of the electricity generated in the EU. With a wide variety of applications, sizes and technologies – from small motors for running cooling fans in computers to very large motors for heavy industry – the sector is very heterogeneous. This is where there is great potential for energy savings, and this is precisely where the EU eco-design requirements for engines come in.
Motors, frequency converters and drive systems are classified according to their energy efficiency. The IEC 61800-9-2 standard defines IE classes for frequency converters and IES classes for drive systems (Power Drive System – motor and frequency converter combined). Since January 2015, it has been a legal requirement that new IE2 motors must have a frequency converter for operation in Europe. From July 2021, the minimum requirement for motor efficiency will be IE3, and from July 2023, the minimum requirement for motors in the 75-200 kW range will be IE4. For frequency converters, the minimum requirement from July 2021 is IE2. In this podcast episode, you'll learn what users need to do to meet these requirements.
5 Questions on the EU Energy Efficiency Regulation for Engines
This also closes the circle to further drive podcast episodes: In Episode 2 "Scrapping Drives", Markus Lempp and Michael Burghardt from Danfoss Drives talk about German politics, who can get the money from the stimulus packages for a green reboot in Europe, and how the implementation of the EU Energy Efficiency Directive works.