For more energy efficiency: scrapping drives?
Episode 2
In focus: The energy efficiency of the entire drive system
In summer 2021, the new EU Energy Efficiency Regulation came into force. It prescribes higher minimum efficiencies for electric motors and reduces the previous exemptions. This offers the opportunity to optimize the energy balance of machines. But can that be all? In addition to looking at the individual component efficiencies, it is also worth looking at the efficiency of the overall system. Hear what the new Energy Efficiency Directive means for users and how efficiency should be measured in the future in this episode of Torque – The Drive Podcast.
Torque - The Drive Podcast | Episode 2
Green relaunch with economic stimulus package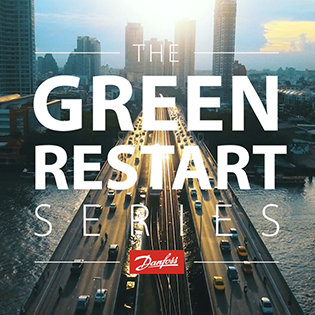 Berlin in Corona Spring 2020. The city is largely at a standstill. Ministries are often staffed by skeleton staff, but the calm is deceptive. In addition to the crisis staffs of the federal and state governments, many ministerial officials are working on a stimulus package for the hard-hit economy. Markus Lempp represents Danfoss in the capital and remembers:
Behind him are exhausting weeks, as he often had to stand in virtual lines to talk to ministers and secretaries of state. Everyone wanted a slice of the longed-for billion-euro funding pie. Lempp always called for investment in technologies for climate protection. "We need to make industrial processes as a whole sustainable, not just promote a single industry," Lempp explained at the time, alluding to the automotive industry.
Today, the economic stimulus package proves him right. "Of course, automakers also benefit, as the government supports e-mobility and advanced production technologies that pay toward climate goals while reducing unit costs. Overall, however, this then offers the opportunity to optimize the energy balance of machines. At Danfoss, we have identified the exact opportunities in the Green Restart…Initiative compiled. It will showcase solutions for sustainable transformation in the building and mobility sectors, as well as in industry, that will help realize a green reboot."
Hand in hand: climate protection, economic stimulus package,
EU Energy Efficiency Regulation
Climate protection and economic stimulus packages must go hand in hand in Germany, otherwise there is a risk of billions of euros in penalties to the EU. "It's a very dangerous discussion when we pit climate protection against the economy. Only if both issues are taken into account can we remain world export champion," Lempp explains.
And what is the situation in Brussels itself? Some observers were somewhat disappointed that some climate change issues were dropped from the agenda during the Corona crisis. "But the goals still remain," Lempp said. A sustainable, climate-friendly economy is what many in the EU want. And for some, that's a real change of perspective right now.
Drivetrain expert Michael Burghardt takes a partly skeptical view of individual EU initiatives. This is because at EU level, the focus is primarily on the energy efficiency of individual components in drive systems. But this is precisely where the industry reaches a physical limit. "Imagine they have a 100 W motor and it's 90 percent efficient, then we have 10 W to maybe squeeze in a new efficiency class – then another and another and another. That just doesn't make sense. We need to get to a systems view." Users and machine builders could do this, but market surveillance is struggling. "Component efficiencies are pretty much exhausted. We have to think anew and we have to think in systems," Burghardt emphasizes again, giving his colleague Markus Lempp in Berlin another task for the political discussion. Again, this is nothing less than a change of perspective.
EU energy efficiency regulation sets the framework for efficient components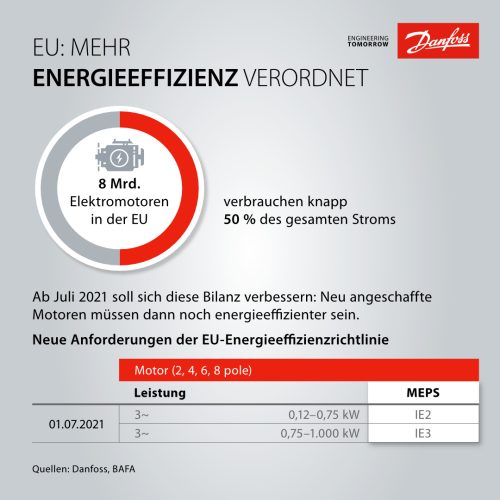 But what does this mean for the user in concrete terms? On July 1, 2021, the new EU Energy Efficiency Directive for engines came into force. It prescribes higher energy efficiency requirements for electric motors – with new minimum efficiencies and reduced exemptions. Frequency converters are also affected by the tightening.
Michael Burghardt from Danfoss Drives comments: "Users can simply continue to run their old systems even now. However, the effort for maintenance is high and this is often not worth it when you consider the efficiency. With an old motor, the user loses around 10 percent efficiency. A new investment therefore often pays for itself quickly, especially with steadily rising electricity prices."
A detailed analysis of the changes that the next stage of the EU Energy Efficiency Regulation will bring for motors and frequency converters is discussed by Markus Kutny from Bauer Gear Motor and Michael Burghardt from Danfoss Drives in Episode 8 of Drehmoment – Der Antriebspodcast.