Companies on their way to more sustainability
How to implement ESG in companies?
The ESG journey (1/4): 'It's a monster'
We are kicking off a new season of Torque – The Drive Podcast. It's about an important topic: ESG, which means environmental, social and governance criteria for companies. In episode (1/4), tech podcaster Robert Weber reflects on the topic, "my preconceptions were big and I was 100% sure we'd be talking mainly about bureaucracy. Because for me, ESG was always something that came from the European Union and made life difficult for companies. But I was wrong. And in the conversations with my guests, my prejudices disappear. I learn a lot about sustainable business strategy, data, reporting, supply chains and next steps that companies are planning to take to become more sustainable. Is ESG also still some kind of 'monster' for you? Then listen to our four episodes of the ESG journey. You will learn more about the topic and get some good advice."
This podcast season has been produced in English. It will also be available in German at a later stage.
Torque - The Drive Podcast | The ESG journey
The ESG journey (2/4): How to make ESG work?
ESG is definitely a lot of work, but it pays off. Dr. Christopher Scheubel of cubemos and Marie Hammer of Danfoss first explain the terminology, discuss the challenges most companies face, and highlight the benefits ESG brings.
The cubemos team is currently experiencing a boom in demand for ESG strategies. This is because many companies recognize that ESG gives them a competitive advantage. This starts with investors, for example, and ends with supply chain transparency. Because nobody wants to invest in so-called polluters anymore. In addition, job candidates and talents select their new employer carefully. Climate sinners and polluters are no longer considered attractive employers. In the podcast, Christopher shares with us how he convinces entrepreneurs to invest in ESG.
ESG is also a challenge for Danfoss, "but one that we are happy to face," emphasizes Marie Hammer. The topic is on the rise worldwide – not only in the European Union, Marie explains. But the EU is a firstmover. Danfoss has already implemented a lot of ESG measures in its own plants, Marie says. In Denmark and Poland, some production sites are already CO₂-neutral. The next step is the supply chain – a much more difficult task for Marie and her team. In the podcast, she explains how Danfoss is tackling the 'supply chain challenge' and where she sees room for improvement.
Torque - The Drive Podcast | The ESG journey
The ESG journey (3/4): What is going on in the drives business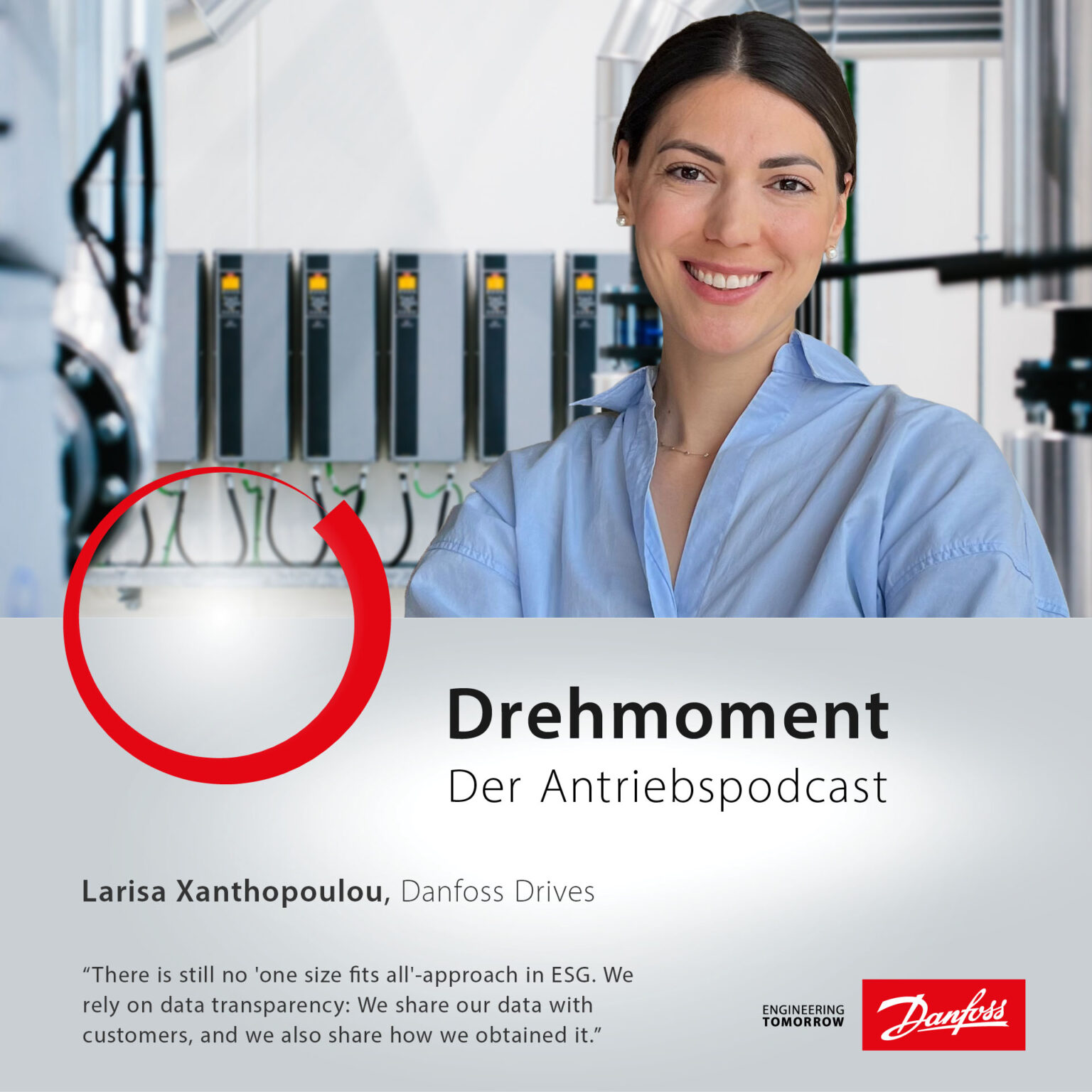 Larisa Xanthopoulou and Michael Wassermann from Danfoss Drives work on Danfoss' ESG journey. On the one hand, the company itself wants to become CO₂-neutral in its own operations by 2030. On the other hand, customers are asking for support.
But ESG is not yet a very mature science. There is still much to define. Danfoss is embarking on its ESG journey together with its customers. Larisa knows, "There is still no consistent ESG approach across companies or industries. That's why we focus on data transparency, sharing our data with customers and also sharing how we got it." Michael adds, "We learn and shape ESG together with our customers."
This episode also covers the topics of circularity and environmental product declarations. In the podcast, the two experts explain what role these topics play at Danfoss Drives, how Danfoss avoids 'green washing', and how they deal with different ESG standards in different regions of the world.
Torque - The Drive Podcast | The ESG journey
The ESG journey (4/4): Hidden energy efficiency champions in buildings
Practical advice is shared by Christine Twellmeyer and Jesper Therbo from Danfoss in episode (4/4). Christine advises in-house around measures for more energy efficiency at Danfoss sites, while Jesper shows customers and partners how to save energy and emissions in buildings with drive technology.
Christine's checklist includes more than 'just' drive technology. When she visits a site with her team, she goes for lighting, heating, or appliances that are on standby. Together with colleagues on site, she then develops site-specific plans to get closer to CO2-neutral production and to save costs.
Jesper supports customers in their efficiency projects. From large automotive manufacturers to the internet group Meta, many companies rely on Danfoss technology. "The hidden champions of energy savings are hiding in HVAC applications in buildings," he explains. HVAC stands for Heating, Ventilation and Air-Conditioning. "Many pumps or fans used in buildings can be speed-controlled to provide double-digit savings." But that's not on the minds of many managers; they first think of lighting, heating or electricity from renewable sources. "We need to educate more about what is possible today with even small speed adjustments."
Tune in to learn more about hidden energy efficiency champions in buildings. You can also discover the efficiency champions in the online simulation tool. Start your efficiency match!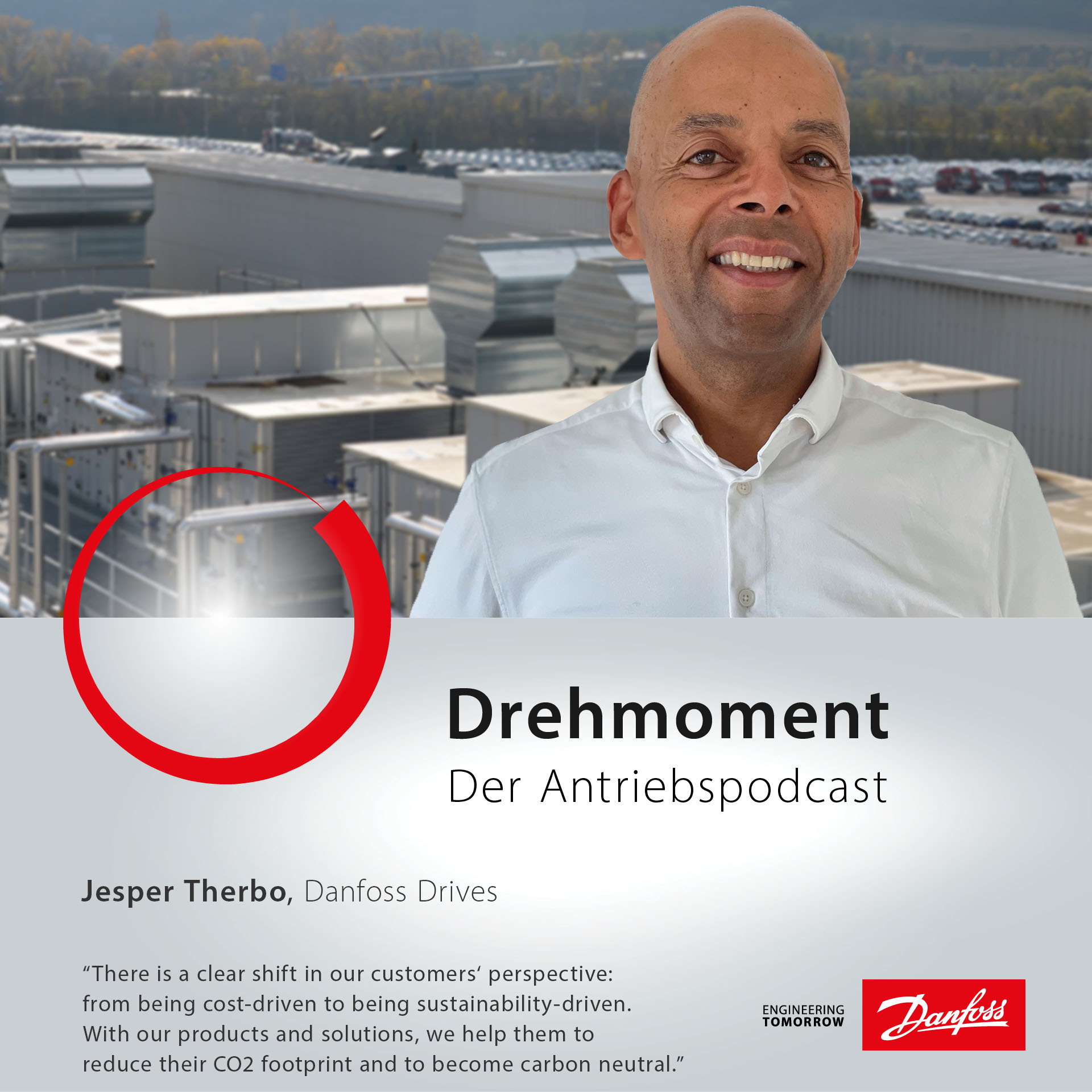 Torque - The Drive Podcast | The ESG journey