Is it worth it? Keep an eye on the return on investment of investments in energy efficiency
Return on Investment: Is it worth it?
Energy efficiency is the lever for reducing electricity costs and CO2 emissions from buildings and production facilities. There are many measures that can be implemented easily, because the necessary technologies have long been available. Initially, however, the acquisition of such highly efficient technologies means investments. Which investments pay off? Which measures pay for themselves comparatively quickly? Learn in detail how to calculate the return on investment (ROI) of energy efficiency investments in this article.
Measures in comparison: Which investment pays off?
One easy-to-implement energy efficiency measure is the replacement of old motors with devices with better efficiencies or also the use of an application-specific speed control with frequency converters. The energy efficiency classes of the European Ecodesign Directive provide insights into the efficiency levels of electric motors. The last two columns of the following table also show the efficiency of a drive system with speed control using a frequency converter. Higher efficiencies and energy efficiency classes lead directly and permanently to lower energy consumption due to lower losses.

Investing in a variable speed system with a frequency converter offers the higher long-term ROI than using more energy-efficient motors. The energy savings are more than three times greater, so the financial benefits are much more profound in the long term.
In principle, however, if the total savings potential in a system is 100 percent, around 10 percent can be achieved through more efficient components such as motors. Operation at adjustable speed control allows energy savings of approximately 30 percent. However, the greatest savings of around 60 percent are achieved by optimizing the overall system. However, there is no global one-size-fits-all solution. Users are best advised to check for each individual application whether a measure brings the desired success.
Wondering where to start with your energy efficiency measures first? Download the Danfoss Drives energy efficiency checklist to achieve success easily and quickly.
Payback time: This is how quickly the investment in a frequency converter pays off
Amortization is the point in time at which the acquisition costs of an investment are covered by the income generated by it. For energy efficiency measures, this means that payback is used to calculate the point at which the energy savings cover the investment costs.
If you calculate the payback period of an energy-efficient component at current energy prices, it is currently between one and two years. In the following example, the investment in a frequency converter to drive a pump or fan pays off even more quickly: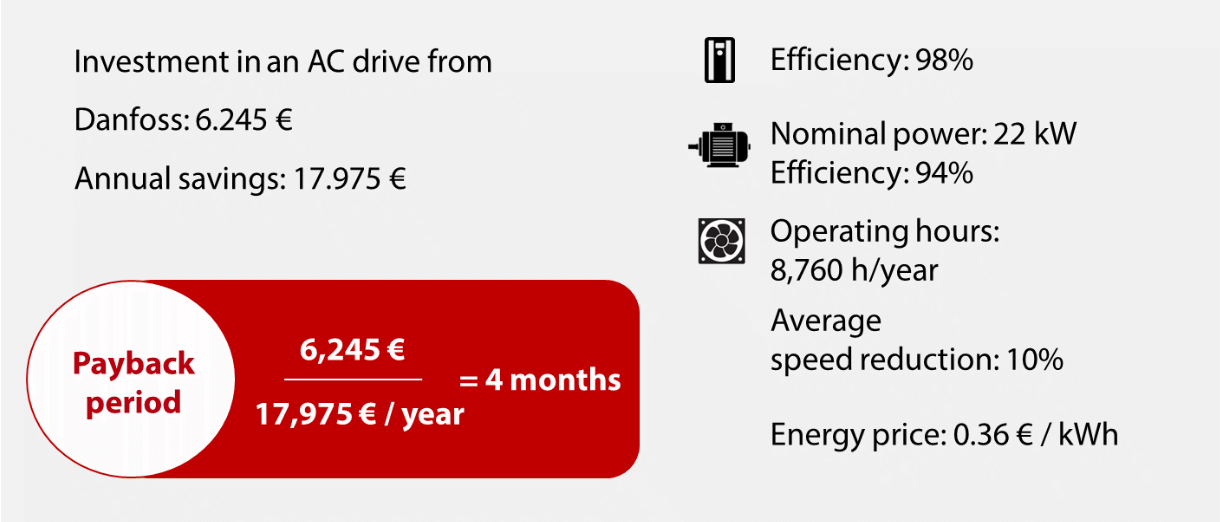 Total Cost of Ownership: Keeping an eye on costs over the entire product life cycle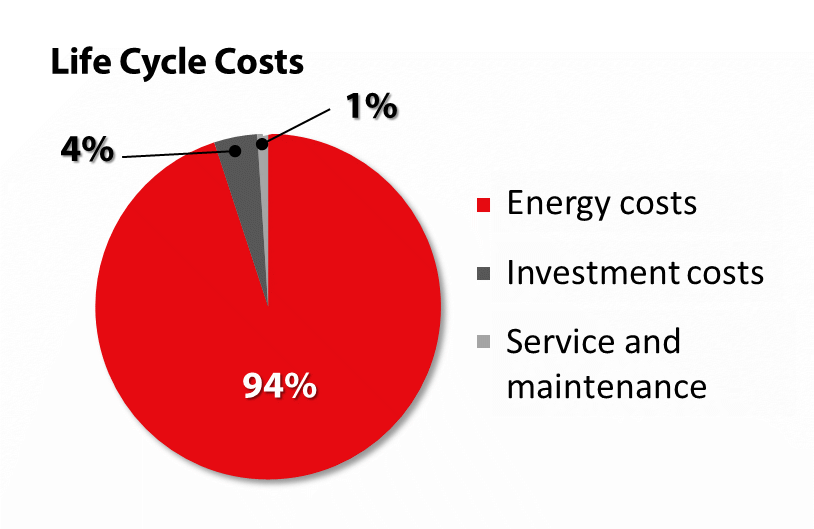 It is important that users consider the full life cycle of drive components when considering energy efficiency investments.
The typical lifetime of a Danfoss frequency converter is between ten and 15 years. In the total lifetime costs, the acquisition costs (= investment costs) account for a maximum of five percent of the total costs. Under normal circumstances, maintenance and repair costs account for only one percent of the total lifetime costs. Energy costs account for the remaining 94 percent.
Therefore, when purchasing a new component or replacing an existing one, put the highest priority on energy efficiency and future energy-saving potential, rather than focusing solely on the amount of investment costs.
This quickly pays off: VW saves 20% energy and 350 tons of CO₂.
Volkswagen relies on the EC+ concept from Danfoss and Novenco for the ventilation of one of the largest assembly halls at the Navarra plant. EC+' stands for the intelligent interaction of the optimally selected system components such as AC drive, motor and fan. In this way, the new air handling system at the VW plant offers maximum energy and cost efficiency. Because ultimately, drive technology is the key technology for greater energy efficiency in fans and pumps through speed control.
Compared with the previous ventilation system, the 6 new AHUs have a combined total savings potential – based on nominal operation per year – of 747,429 kWh of electrical energy, 350 tons of CO₂ and 199,115 € in electricity costs in the first year. This calculation results for an energy price of 26.64 Cents/kWh. Other underlying assumptions of the calculation are the CO₂ emission factor of 468 g/kWh and 8,760 annual operating hours.
In addition to these significant energy and cost savings, the new units are also 30 percent shorter and lighter.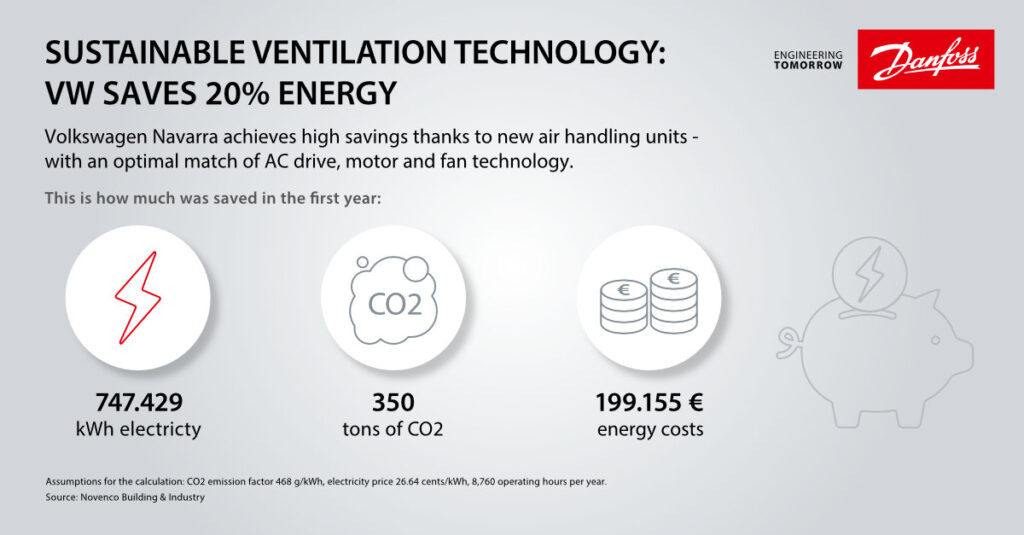 Discover your energy efficiency champions!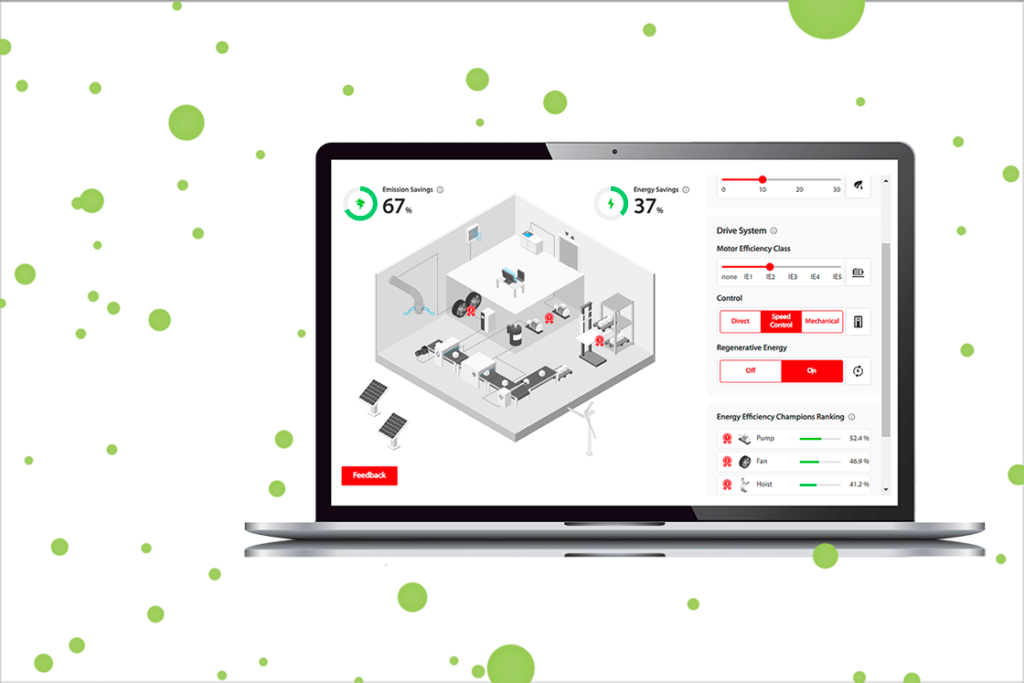 Energy is and will remain expensive. In addition, companies must reduce CO2 emissions as part of their ESG targets. Many companies therefore invest in renewable energies such as photovoltaics on the roof or purchase green electricity. But is that enough? Discover the hidden energy efficiency champions in your building with the new online tool. You will learn which settings will save you the most energy, costs and emissions at the same time.
By the way, the example building in our online tool has the same dimensions as the Danfoss production site in Graasten, Denmark. All value quantities of the savings and the related calculations are related to the dimensions of this building. Start playing your energy efficiency match now!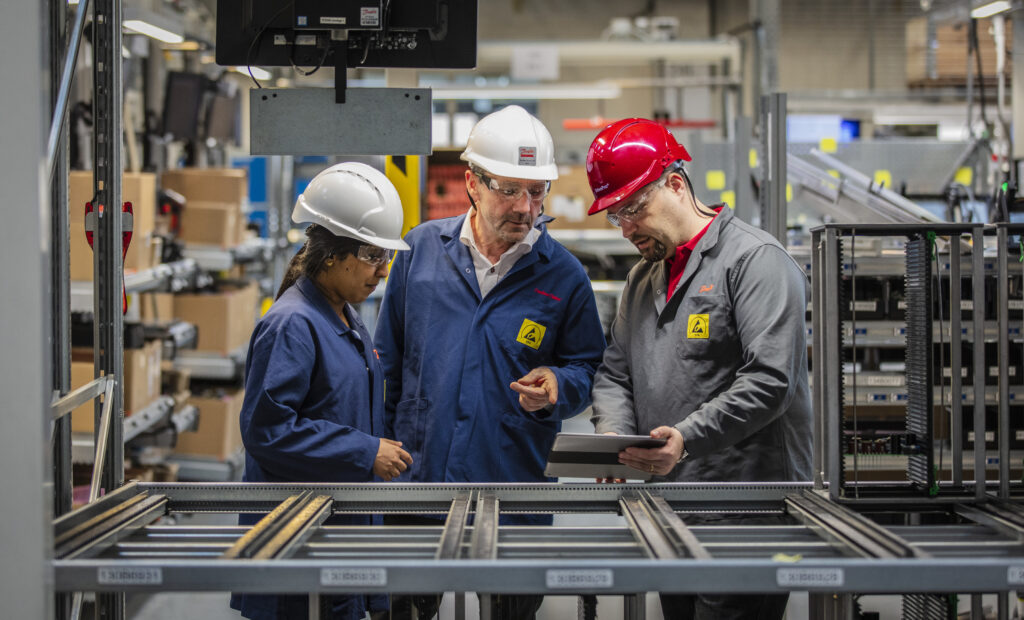 Does a certain energy efficiency measure pays off quickly? Whether it's a new construction project or an existing building, commercial buildings need to ensure a precise balance between dynamic growth and sustainable management. Whether in hotels, offices, data centers or public facilities, Danfoss products and drive solutions can help you achieve significant energy savings, emissions reductions and cost reductions. We support you with expert advice on specific applications and on holistic solutions for optimum efficiency in your building. Do you have questions about the return on investment of energy efficiency measures in your building? Then simply book an appointment in the online expert calendar.