Discover the hidden energy efficiency champions
in your building
Do you know the energy efficiency champions in your building?
Energy is and will remain expensive. In addition, companies must reduce CO₂ emissions as part of their ESG targets. Many companies therefore invest in renewable energies such as photovoltaics on the roof or purchase green electricity. But is that enough? Discover the hidden energy efficiency champions in your building with the new online tool. You will learn which settings will save you the most energy, costs and emissions at the same time.
By the way, the example building in our online tool has the same dimensions as the Danfoss production site in Graasten, Denmark. All value quantities of the savings and the related calculations are related to the dimensions of this building. Start playing your energy efficiency match now!
Identify the biggest energy consumers now: Take action yourself!
Have you found the hidden energy efficiency champions? Congratulations! Want to turn your digital success into reality? Then simply enter your details in this contact form. You will receive an information package that you can use to continue working on energy efficiency with drive technology in your buildings yourself. If you wish, a Danfoss expert will contact you directly to support your project.
Gain tech insights in energy efficiency and hidden champions
Energy efficiency is the lever for reducing energy consumption, electricity costs and CO₂ emissions from buildings and production facilities. Did you know that in the first step you can easily and quickly realize energy savings by speed controlling fans and pumps? For some applications, it is also worth considering regenerative options. Keyword: regenerative energy. In the Tech Insights articles, you can find out in which applications regenerative power is economically worthwhile. You will also find information about the evaluation of energy efficiency measures: Which investments make sense? Which measures pay for themselves quickly? Learn how to check the return on investment (ROI) of energy efficiency investments in detail in this Tech Insights section.
Sustainable ventilation technology: VW saves 20% energy and 350 tons of CO₂
Volkswagen relies on the EC+ concept from Danfoss and Novenco for the ventilation of one of the largest assembly halls at the Navarra plant. EC+' stands for the intelligent interaction of the optimally selected system components such as AC drive, motor and fan. In this way, the new air handling system at the VW plant offers maximum energy and cost efficiency. Because ultimately, drive technology is the key technology for greater energy efficiency in fans and pumps through speed control.
Compared with the previous ventilation system, the 6 new AHUs have a combined total savings potential – based on nominal operation per year – of 747,429 kWh of electrical energy, 350 tons of CO₂ and 199,115 € in electricity costs in the first year. This calculation results for an energy price of 26.64 Cents/kWh. Other underlying assumptions of the calculation are the CO₂ emission factor of 468 g/kWh and 8,760 annual operating hours.
In addition to these significant energy and cost savings, the new units are also 30 percent shorter and lighter.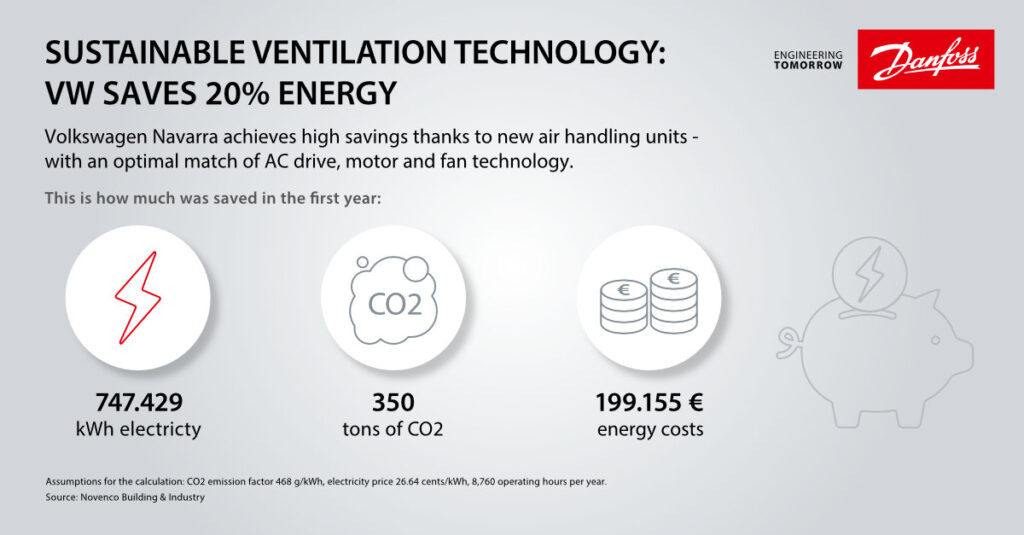 How to implement ESG in companies?
All episodes of the podcast season at a glance
In the podcast season "Implementing ESG in your company: What to do now?" we go on an ESG journey. For this purpose, we have again invited numerous experts.
In episode (1/4), tech podcaster Robert Weber reflects on ESG: "For me, ESG has always been something that is pushed by the European Union. It's a real bureaucratic monster that makes life difficult for companies. Talking to this season's guests, it turns out I was wrong."
Dr. Christopher Scheubel from cubemos and Marie Hammer from Danfoss explain in episode (2/4) what ESG stands for and what tasks are associated with it in companies. They agree that ESG is an opportunity for companies. Because now everyone has to strategically address issues like supply chains and energy consumption.
Anyhow, despite all opportunities, ESG also challenges companies. The topic is new, many processes have not yet been defined. Larisa Xanthopoulou and Michael Wassermann from Danfoss Drives explain in episode (3/4) how Danfoss is dealing with this challenge and offer some insights into the company's ESG journey. "We focus on transparency and learning by sharing data and insights with our customers."
Practical tips are shared by Christine Twellmeyer and Jesper Therbo from Danfoss in episode (4/4). Christine advises in-house around measures for more energy efficiency at Danfoss sites, while Jesper shows customers and partners how to save energy and emissions in buildings with drive technology.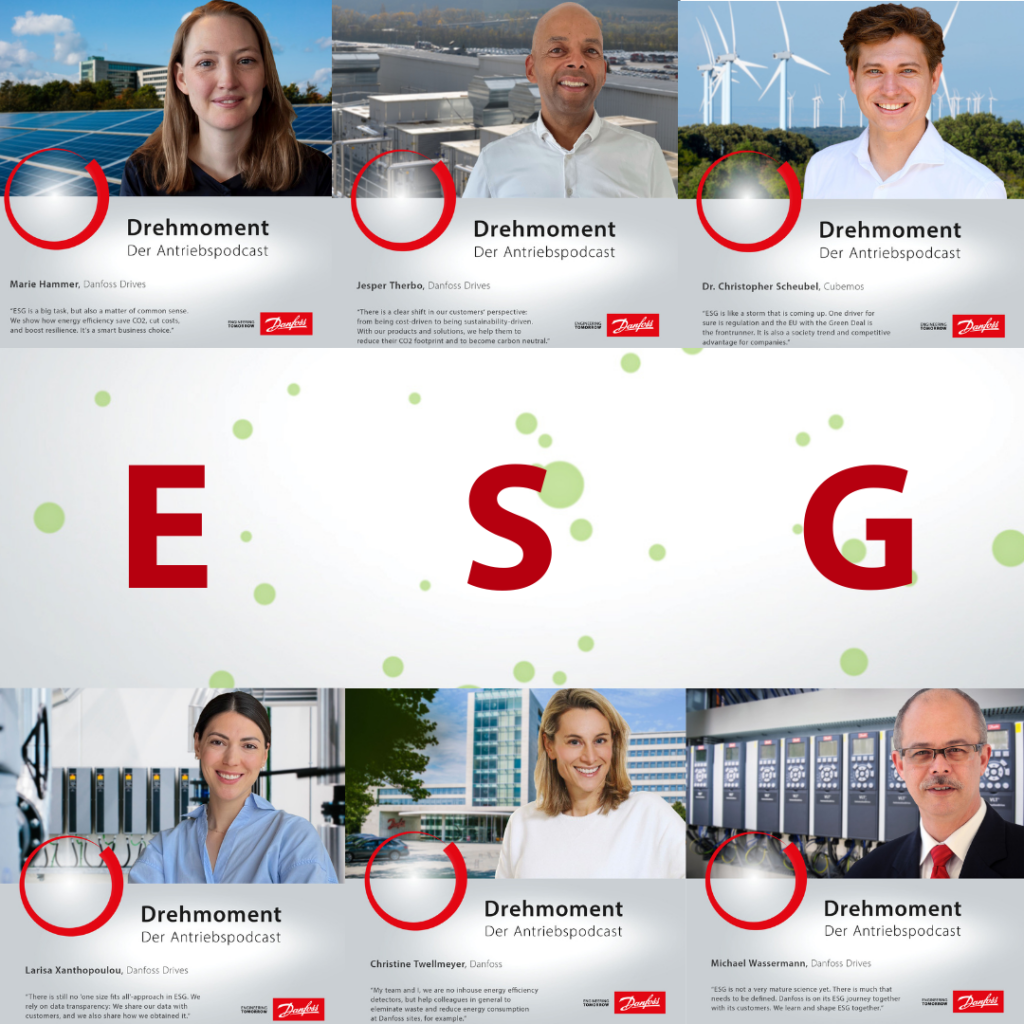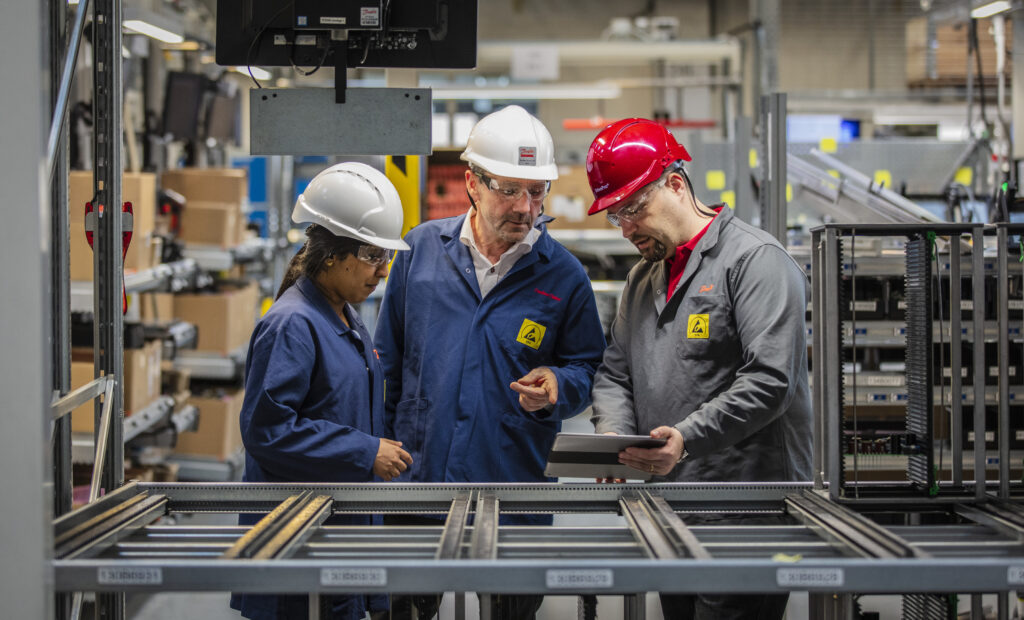 Whether it's a new construction project or an existing building, commercial buildings need to ensure a precise balance between dynamic growth and sustainable management. Whether in hotels, offices, data centers, or public facilities, Danfoss products and drive solutions for fans, compressors, pumps, and elevators and escalators can help you achieve significant energy savings, emissions reductions, and cost reductions. We support you with expert advice on specific applications and on holistic solutions for optimum efficiency in your building. Do you have questions about energy efficiency with drive technology in your building? Then simply book an appointment in the online expert calendar.